Who Is on Strike Today in the U.S.?
The number of workers involved in a major strike increased by 50% in 2022 compared to 2021.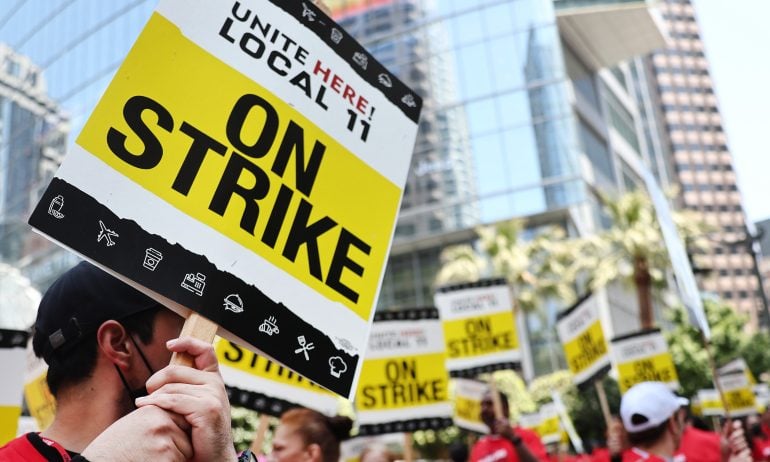 Many or all of the products featured here are from our partners who compensate us. This influences which products we write about and where and how the product appears on a page. However, this does not influence our evaluations. Our opinions are our own. Here is a list of our partners and here's how we make money.
Updated Sept. 15 with the latest strike by the UAW.
The so-called "hot strike summer" isn't an anomaly contained to summer 2023 — it's likely part of a larger trend of increasing strikes over the last couple of years: The number of workers involved in a major strike (involving at least 1,000 workers) increased by 50% in 2022 compared to 2021, Bureau of Labor Statistics' data shows.
Going on strike means workers withhold labor from their employer in order to gain leverage to bargain for things like higher compensation and benefits, more protections, as well as improved working conditions. Workers don't have to be part of a union to strike, but unions often organize and authorize strikes, as well as represent workers in negotiations.
As of Sept. 15 there have been 274 labor actions in 419 locations across the U.S. in 2023, according to the Cornell University School of Industrial and Labor Relations (ILR) Labor Action Tracker. Here are some of the major strikes happening right now in the U.S.
United Auto Workers (UAW)
Participants: 13,000, but with the potential to reach up to 150,000 if all additional plants go on strike.
What's happening: The UAW is in negotiations with the Big Three auto companies — Ford, General Motors and Stellantis. The union's contract expired as of 11:59 p.m. on Sept. 14, which signaled the beginning of a strike. For now, the strikes are targeted: three plants in three different states in order to simultaneously all three companies. The strategy, dubbed by UAW President Shawn Fain, is a "stand-up strike" and it means additional plants could strike at any time.
What do workers want: Elimination of payment tiers; double-digit pay raises; restoration of cost-of-living adjustments; a secure pension and increased retiree pay; right to strike over plant closures; protection for temporary workers; and more paid time off.
Screen Actors Guild - American Federation of Television and Radio Artists (SAG-AFTRA)
Participants: 160,000 actors and entertainment professionals.
What's happening: SAG-AFTRA is in negotiations with the Alliance of Motion Picture and Television Producers (AMPTP) — the bargaining group that represents major Hollywood studios and streaming services including Amazon, Apple, Disney, NBCUniversal, Netflix, Paramount, Sony and Warner Bros. Discovery.
What workers want: Wage increases, improved health care coverage, compensation for virtual auditions, and protections around their likeness and talent being exploited via artificial intelligence.
Writers Guild of America (WGA)
Participants: 11,500 writers in film, television, radio and online media.
What's happening: Both WGA West and WGA East have been on strike for months following failed negotiations with AMPTP.
What workers want: Higher compensation and residuals, especially for streaming content; minimum staffing and duration of work for writers' rooms; and regulated use of artificial intelligence on projects.
Participants: 1,750 hotel workers.
What's happening: Strikes at multiple hotels in Los Angeles by members of Unite Here Local 11. The union is bargaining with the Coordinated Bargaining Group.
What do workers want: Higher wages; better benefits and improved working conditions; and permanent jobs for replacement workers.
Robert Wood Johnson University Hospital
Participants: 1,700 nurses.
What's happening: Members of United Steelworkers Local 4-200 in New Brunswick, New Jersey (which represents the nurses), are striking after months of bargaining for a new contract. The nurses' previous contract expired on June 30, then extended to July 21.
What workers want: Appropriate staffing to combat shortages; higher pay; and a solution to rising health insurance costs.
Possible strikes to come:
Service Employees International Union (SEIU) Local 721
Participants: 11,000 city service workers.
What's happening: The SEIU Local 721 is bargaining with the City of Los Angeles. The union completed a one-day strike on Aug. 8, but more strikes could be on the way as bargaining continues. The union represents sanitation workers, lifeguards, shuttle drivers and heavy-duty mechanics, traffic officers and engineers, as well as port boat captains, among others. An agreement is still in place until December, but the union is bargaining for a new contract and claims the city is not acting in good faith.
What do workers want: Increased pay, improved benefits and increased staffing.
Association of Professional Flight Attendants
Potential participants: More than 26,000 flight attendants.
What's happening: On Aug. 30, members of the Association of Professional Flight Attendants (APFA) voted yes to authorize a strike on behalf of American Airlines flight attendants. APFA National President Julie Hedrick said the union is "fired up and ready for a contract," adding that American Airlines may "ignore this strike vote at their peril." But don't expect a strike soon; it takes a long time and a lot of red tape for airline unions to legally strike, and could even be blocked by the federal government. But voting to authorize a strike still puts pressure on American Airlines to negotiate.
What do workers want: Increased payment amounts and payment for boarding time; increased profit sharing; benefits like parking reimbursement and additional vacation time; and an improved retirement plan.
How many strikes happened in 2022?
Here are some of the key findings from the 2022 Labor Action Report from ILR.
There were 424 work stoppages in 2022, including 417 strikes and seven lockouts. In total, approximately 224,000 workers were involved in these work stoppages.

Work stoppages increased by 52% from 2021 to 2022.

The number of workers involved in work stoppages increased by 60% from 2021 to 2022. 

Most work stoppages lasted a short period of time: 46% lasted one day or less.

Nonunion workers organized 32% of all strikes in 2022. 

The majority of work stoppages in 2022 were in the accommodation and food services industry — about one-third of all stoppages. But these stoppages were composed of 7,000 workers, which accounts for only 3% of total workers involved in stoppages for the year. The majority of accommodation and food services workers were led by Starbucks Workers United — an organizing effort to unionize Starbucks locations — or the Fight for $15 campaign — an organizing effort to unionize underpaid workers and secure a $15 minimum wage. 

The majority of workers, about 60%, involved in all work stoppages during 2022 were in the educational services field.
(Photo by Mario Tama/Getty Images News via Getty Images)